Let Playland Host Your Next Paintball Party
Hows Does It Work?
When you book a paintball party at Playland you are reserving gear for a minimum of 10 players for 3 hours. If you have less then 10 players, thats okay, but pricing is the same. Once you arrive with your full group, you will check in at the front desk. We will collect all of the waivers and any remaining payment. We will take it from there! Before handing out gear we will go over all of the rules with you group and show them how to properly and safely use the equipment. Once the rules have been explained you will head back to your table and get geared up. Once you're ready you can head out to the field. When it's you're groups turn to play it will be just them and the ref, no outsiders playing with them! From there they are on there own! Getting back on the fields will be at your own pace. With our three fields we have a new game starting every 5 minutes so wait times are low! Once you're ready to get back in the action just wait by the field you want to play next and the ref will get you on as soon as the field is clear! You can take breaks for food or water, whatever you like, its completely at your own pace.
How Much Is It?
Weekend 3 hour party $349

Weekday 3 Hour Party $449

each additional player over 10 $35

extra paint $15 for 500 or $50 for 2000
Each Party Package Includes:
Gear for 10 Players

Semi-auto Marker

Colored Full Face Mask

200 Paintballs Per Person

Private Field Play

Unlimited Play During Party

At Least 1 Party Table

Optional Padded Vest
Common Questions:
Do we bring our own food?
Yes, you can bring any food or drinks you wish. You will need to provide plates napkins or decorations and you are welcome to do so. Local pizza places deliver to us all the time and know where we are. Red Boy pizza and Mountain Mikes are close and easy.
Is it indoors?
No, there are no indoor fields in California. All of our paintball fields are outdoors, but our staging area where all the tables are is covered, so in between games you will be out of the elements and in the shade.

What do we wear?
Closed toed shoes are a must, We recommend athletic shoes or boots when it is wet. We also highly recommend wearing long pants, long sleeve shirts, and a hoodie. Any sort of thin gloves, batting gloves, bmx, or even gardening gloves. And lastly a beanie or hat.

Do paintballs stain?
The paintballs won't stain your clothes, they are water washable and biodegradeable.

Can we bring our own paintballs?
If your using rental markers you must use field paint. Only self equipped players may bring paint, but paint must be from a paintball store, nothing from dicks, big 5, etc or online because they contain oils that will stain cloths and bunkers.
For more information check out the Paintball tab under activities!

for only $10 more per player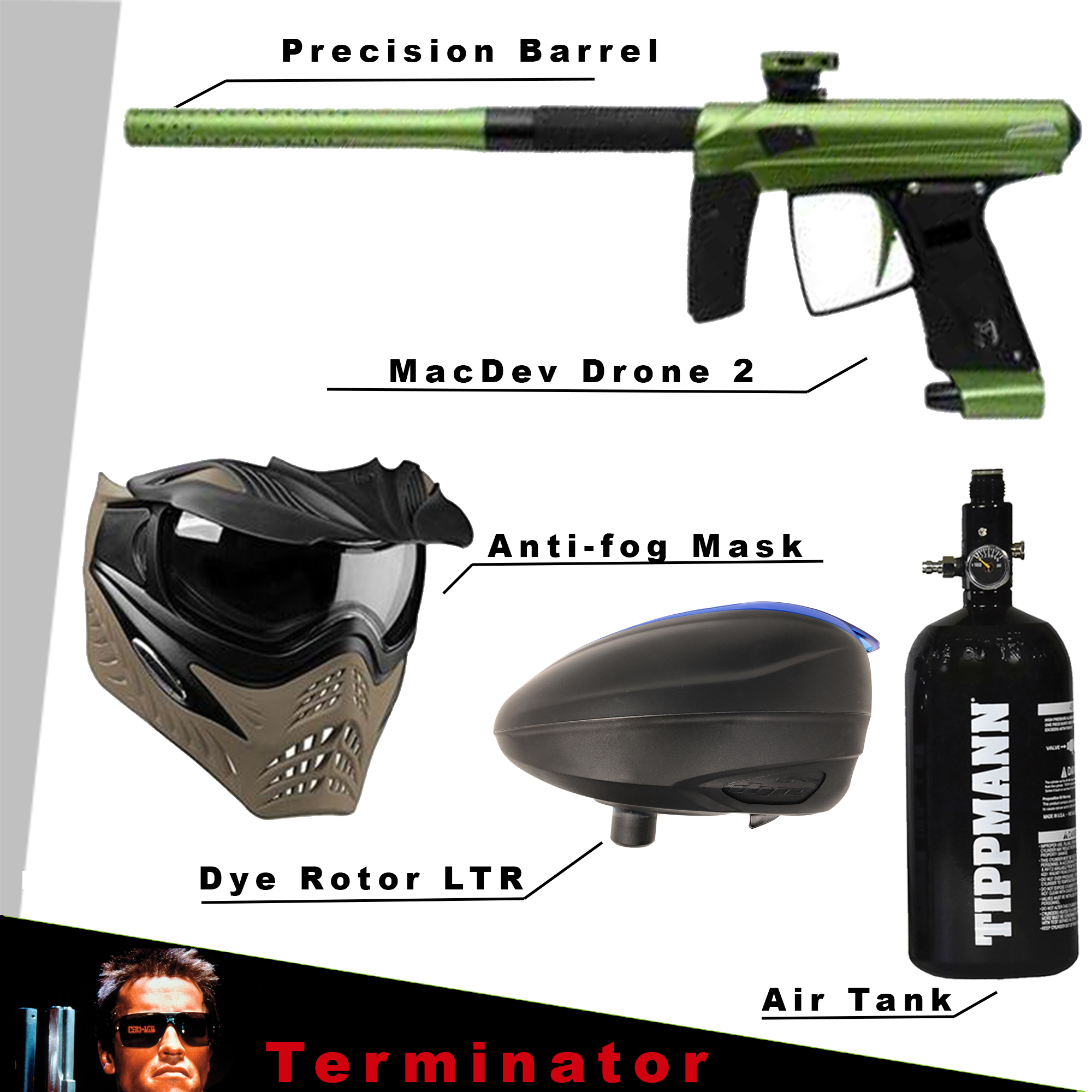 Level Up and Become the Terminator!
for only $15 more per player